23 May

The Long Way to Mount Rainier

My name is Tucker Grigsby and I am a Mosaics in Science intern working with the Cascades Butterfly Project at Mount Rainier National Park for summer 2017.  I graduated from the University of California Santa Barbara last year with a degree in aquatic biology, and while I love the ocean, I find that the mountains and forests draw the same wonder and emotion from me. With the opportunity to experience a mountain wilderness ahead of me, I left my home in Berkeley, California  for a week-long road trip to Mount Rainier.
My first stop was Mount Shasta in Northern California. At 14,179 feet, the mountain is the second-tallest in the Cascades, only bested by Rainier, and rests at the southern end of that volcanic mountain range. I arrived late and camped nearby in Shasta-Trinity National Forest.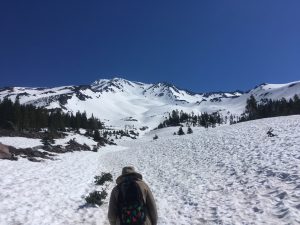 Bunny Flat serves as the starting point for most ascents of the mountain, and that is where I met Liz, a new friend and climbing partner.
Tired from our ascent the previous day, and without the luxury of showers in the forest, we decided to find Castle Lake, a local subalpine lake just atop forest line. Castle lake is fed by snowmelt, but is warmed by a warm-spring near it's center. It's water is exceedingly clear and the perfect temperature for swimming.
I left Liz in the town of Mount Shasta with a jar of homemade kimchi, and heading northeast into Oregon,  I camped in Umpqua National Forest before visiting Crater Lake. A hiker I met there informed me that Crater Lake gets its unique deep blue color from its clear water and depth. It is a volcanic caldera lake; nearly 2000 feet deep, it's the deepest in the United States.
As much as the Oregonian forests have to offer, I found myself missing the ocean. I left the Umpqua forest and crossed the state, using backroads to follow rivers away from the mountains, eventually reaching Sunset Bay on the central Oregon Coast. Oregon's central coast is dramatic and features severe and imposing sandstone sea cliffs in some areas, and immensely wide sandy beaches in others. Where I camped, the intertidal was dominated by limpets, snails, and coralline algae.
As the starting date for my position approached, I headed inland again through Oregon and into Washington, where I was met by an old friend with two kayaks. The final day of the trip was relaxing. We spent the daylight at Silver Lake under Mount St. Helens, paddling, watching ospreys fish, and eating peanut butter and jelly sandwiches.
I arrived at my site in Mount Rainier later that night refreshed and excited to begin my adventure as a Mosaic intern for the summer.