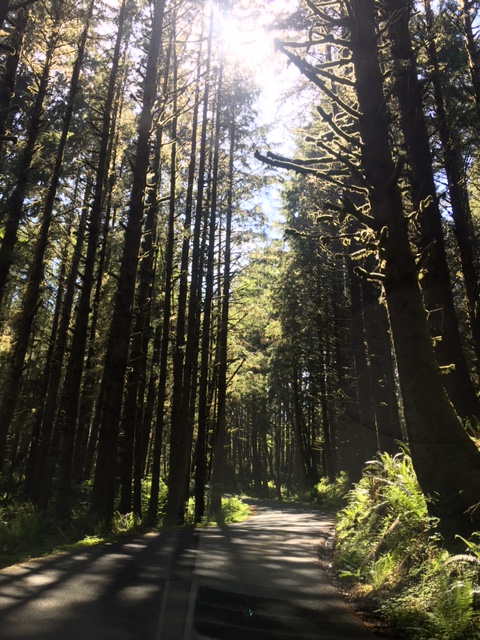 08 Jun

"At this place we had wintered" –Lewis and Clark Expedition

The Lewis and Clark National Historical Park was established in 2004 to commemorate the journey of Lewis and Clark and the Corps of Discovery through the Pacific Northwest. The park includes various sites: Salt Works, Dismal Nitch, the reconstruction of Fort Clatsop, the Fort to Sea trail, Cape Disappointment, and the Middle Village (qí'qayaqilam)/Station Camp. Fort Clatsop was the first military fort west of the Rockies where Lewis and Clark camped, traded with Clatsop natives, and hunted elk during the harsh winter of 1805. The Lewis and Clark National Historical Park preserves, restores and interprets important historical, cultural and natural resources along the lower Columbia River area (Foundation Document). The park, comprising of numerous state and NPS units, encompasses 3,245 acres of land within Washington and Oregon. Sitka spruce stand tall throughout the coastal temperate rainforest, emergent marshes provide habitat for local wildlife, and the stream channel is essential for the survival of young salmon. In order to restore and preserve the natural resources that were so valuable to the Corps of Discovery, the natives, and for future generations, the park resources management team works on restoration projects within the park and in collaboration with other partnerships.
This is where my story interweaves with Lewis and Clarks'. I am a Mosaics in Science Intern working with the National Park Service to process vegetation monitoring data that has been collected for the past ten years for the Columbia Estuary Ecosystem Restoration Program. While I have been here, I have learned that restoration projects consist of of many moving parts. Grants are tedious and provide the funding for these projects to exist. Partnerships with organizations such as the Northwest Oregon Restoration Partnership (NORP), allow for the sharing of technical expertise, growing of nat
ive plants, and grant matching for the restoration projects to be successful. Biological technicians, interns, and volunteers go out into the field to handle invasive plant species to allow native plants to flourish. Native plants are grown at the park nursery to plant thousands of young plants to regenerate habitats. Forest thinning remove Douglas fir, remnants of logging plantings to allow the native Sitka spruce and big leaf Maple to prosper and create disturbance for forest renewal. Restoration projects are necessary to restore the ecological processes that have been destroyed by anthropogenic influences. Logging and pasture grazing have transformed what used to be lush, thriving environments for many wildlife and plants.
Every day is an adventure; I get to participate at partnership meetings, learn about native plants, and be part of a larger effort to restore this beautiful place for all to enjoy.
"I slept and dreamt that life was joy, awoke and saw that life was service. I acted and behold service was joy." –Rabindranath Tagore, Indian poet