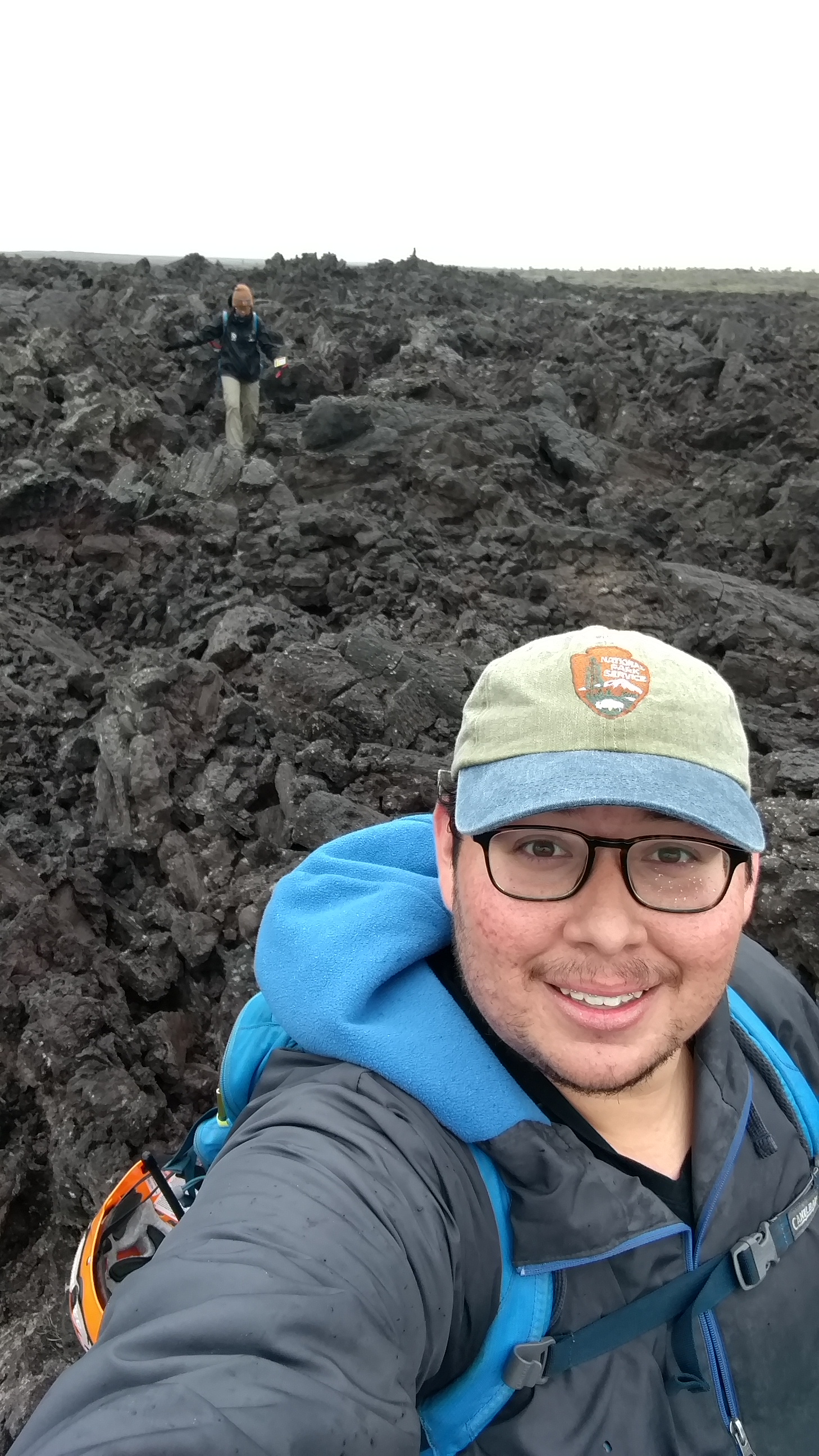 27 Jun

Hunt for the Big Enchilava

I was able to spend my days looking for caves at Craters at the Moon that have yet to be explored. I had one particular cave in mind. It wasn't just any old cave I was looking for though, it was the Big Enchilava (yes that is its real name). Armed with a GPS unit, youthful enthusiasm, enough lights to light up the western hemisphere, and my caving buddy Lucy, we set out on our journey. Each mile we drove closer to our entrance point seemed to anger the very sky. The wind began to howl, clouds rushed in to darken the sky, but at least it was dry. The terrain we had to cover seemed less than hospitable, bringing images to mind of the black vomit it was once described as so long ago.
Even still, we were on the hunt so out we went. The journey was difficult at points but we made good progress. And then the rains came.  Clambering over the brittle and sharp a'a lava flow we made our way gamely on, heads bent against the sheeting rain, watching the GPS as we got closer and closer to our cave. Eventually we reached our destination, geared and ready to explore this mysterious cave known as the Big Enchilava.
Within one foot of the cave coordinates is where disappointment struck. No visible caves as far as the eye could see, not even a small burrow entrance that could have been mockingly referred to as the Big Enchilava. Our hearts sank, but it had been a long trek so we decided to explore the area.
Our desire to find this unexplored cave led us on a merry hunt, covering as much ground as possible in the hopes of stumbling upon it. Windswept and soaked through, we had to give up the hunt. We were beaten that day, but the disappointment of not finding our cave left a smoldering desire to find, map, and explore this elusive cave fondly referred to as the Big Enchilava.
In reality, we had fruitless but exciting search for this cave. My resource management partner Lucy, and I, spent a cold but exciting day out on the lava searching for this cave that was at one time tagged on a GPS unit but has yet to be explored. It is always good to have a sense of humor when working in the field and your day doesn't go as planned. I hope you enjoyed this little insight to my week and hope I can share a blog post in the future describing my locating and exploration of the elusive Big Enchilava.