04 Jul

Final Days of the Point Reyes Science Adventure

"Throw a stone into the stream and the ripples that propagate themselves are the beautiful type of all influence" -Ralph Waldo Emerson

I had these words in mind as we were wrapping up the Point Reyes Science Adventure on Tuesday. We ended our time together with a concept map exercise. The students were able to chew on their experiences and draw or write about their favorite activities. I noticed a beautiful theme among their work; interconnectivity. They seemed to truly grasp this concept as one that would allow for a sustainable future. Whether or not they first learned this from the Science Adventure, I was overjoyed to hear that this was a major take-away from the week. I hope that the students continue this ripple-effect by passing along the message of interconnectivity outside of our time together.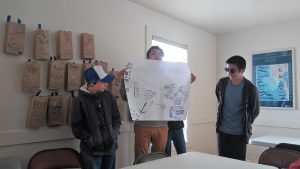 Above: Groups of students presenting their concept maps.
To back up a bit, the final few days of the Point Reyes Science Adventure were full of just that, adventure! We continued working in Lagunitas Creek to record its bathymetry by monitoring the water depth and variations of the creek bottom. In the days to follow, we surveyed the intertidal zone of the Tomales Bay and went fossil hunting! For the fossil hunting portion of our week, we met with Point Reyes's former paleontology intern who is now working at the University of California Paleontology Museum at Berkeley. She guided us on a fossil hunt on Drake's Beach. Drake's Beach is lined with giant cliffs with exposed rock that are full of the fossils of incredible prehistoric animals. I guess I had eaten plenty of carrots that day because I spotted a fossilized shark's tooth that had yet to be found.
Left: The rock on Drake's Beach. Right: The fossilized shark's tooth.