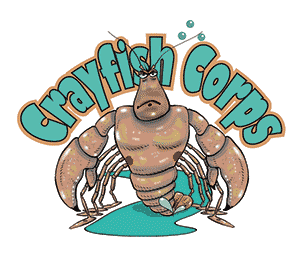 13 Jun

Crayfish Corps: Stewards of the Stream

This past week we've taken several groups out crayfishing in the park. These jaunts in the creek are run by our very own Crayfish Corps, of which I'm a proud member. Crayfish Corps educates the public about both native and invasive crayfish, and allows those participating to manually remove harmful invasives from the creek. There are several species of crayfish that are present in the area and only one of them is definitively non-native and invasive. This species, Orconectes rusticus, is known as the rusty crayfish due to large rust-colored splotches that are found on either side of its carapace. However, prominent black bands near the tips of their claws are a better means of identifying rusty crayfish.

Rusty crayfish, though having similar diets to native species, have voracious appetites and are more aggressive. Because crayfish are omnivorous, generalist foragers, this poses a threat to natives which then face severe competition for resources. Since rusty crayfish are generally larger than native species and have thicker exoskeletons, they are not easily digested by predators and thus, provide less nutrition to higher trophic levels.

In a loose line along the width of the creek, we move upstream, catching as many invasives as we can, and making note of how many natives we encounter. This is done simply by lifting up rocks, placing a sweep net downstream of the rock, and hoping for the best. A dam that splits the creek near its source serves as a physical barrier against rusty crayfish migration. However, some of them still make their way downstream. Upon capture, invasive crayfish are euthanized and measured for ongoing research. Hopefully, we can find a way to reduce their ability to migrate, or otherwise bolster native species against being outcompeted.