23 Jul

Project for the Summer in Mineral King: Night Skies and Natural Sounds

It has been a couple of weeks since I arrived here at beautiful Mineral King, inside of Sequoia and Kings Canyon National Park. This summer I will be responsible for two major projects. The first involves developing and designing an 45 minute evening program on the night skies. The second project involves developing a pop-up activity on the night sky and natural sounds.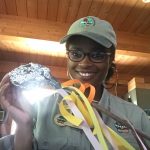 For the evening program I have developed a program titled "Astronomy and Us!". The idea behind the program is that it tells a chronological story of astronomy starting from Ancient Mesopotamia (modern day Iraq), going into astronomy used by Native/Indigenous/Aboriginal peoples, astronomy utilized by Black people, and finally a discussion on the ways in which astronomy has influenced modern society and pop culture.
This past Saturday, I presented my first evening program to a group of 16 campers! The evening was a success and at the end I even spotted a Black bear on my way back home–my unofficial welcome to Mineral King!
I have been having a great time developing the evening program on night skies and my mind is buzzing with ideas for the pop-up activity on natural sounds and night skies.
Thanks for tuning into my blog and following my Summer adventures in Mineral King. Until next time!