15 Aug

DC Super Friends, Sans Capes

Hi everyone!

At the time of writing this, I have returned from the end-of-internship workshop in Washington, DC. Because it's the freshest thing on my mind, I've decided to write this first and will have to fill you in on all of the happenings at DINO from earlier this summer.

In the wee hours of the morning of Sunday, August 4th, I stepped foot in the nation's capital for the very first time. This week was dedicated to a series of presentations, panels, and tours, during which I and my fellow Mosaics in Science interns (whom I had yet to meet) would share our summer's experiences, learn how to build a career within the federal government, and reinforce our understanding of the importance of diversity science and public discourse.

The gravitas of the workshop's goals was the last thing on my mind when I arrived. MIS functions would not begin until that evening, so I was free to explore to my heart's desire. Naturally, I booked it to the Smithsonian National Museum of Natural History as soon as I caught some precious Z's. The museum opened a new Deep Time exhibit in June, and I was not about to let myself miss this mecca of paleontology while I was in town.
In short, the exhibit was mind-blowing. Chock-full of many of evolution's greatest hits, it was clearly designed with great consideration and love. A particular highlight was seeing two dinosaurs–Diplodocus and Camarasaurus–from DINO on display (The interpretive labels say they are form Uintah County, Utah, which DINO calls home). In fact, the vertebral and hind regions of the skeletal mounts are actual bone elements that were extracted from the quarry almost a century ago. After spending several hours wondering at the marvels within the museum, I went back to the hotel to convene with my soon-to-be comrades.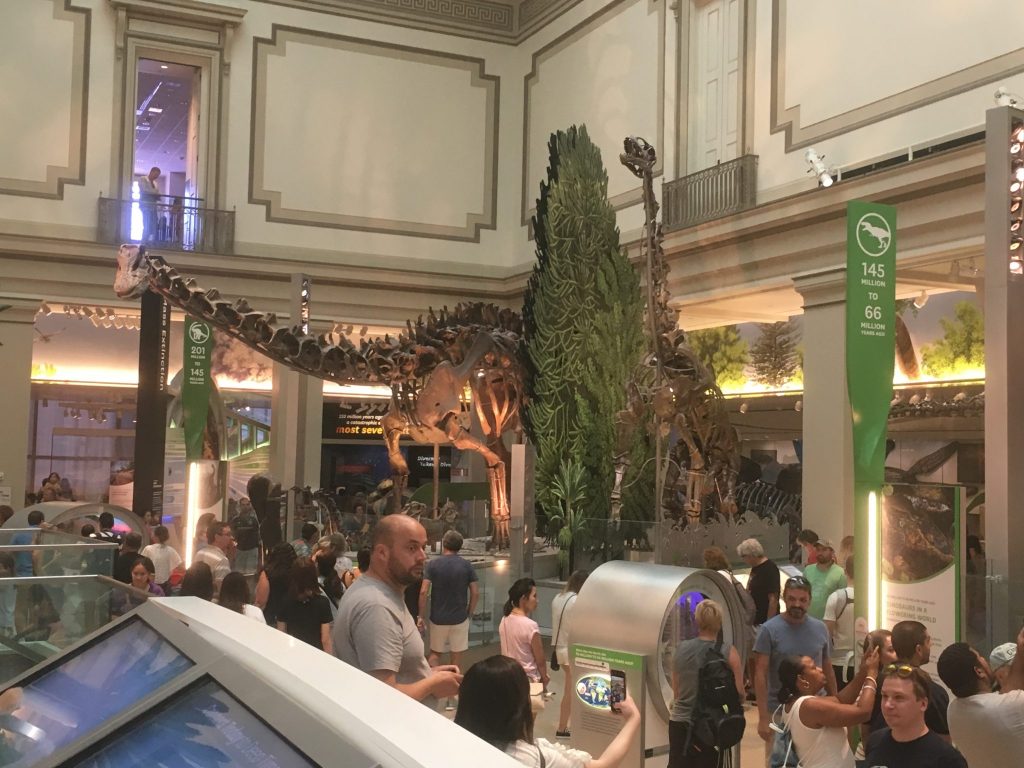 All the dinosaurs feared the Nomnomnomsaurus.

That right there is like my job!

I think your next evolutionary investigation is that-a-way, Chuck.
We all clicked just about immediately. Learning about the lives and projects of my fellow interns, who very quickly became my friends, was utter fun. I will refrain from diving into the details of who did what because, if you're reading this blog, you can access their posts as well. Even so, seeing the amazing scientific and educational work achieved through Mosaics in both oral and poster presentation sessions on Tuesday was highly stimulating and rewarding. My own presentation went off without a hitch–the jokes that I intended to tell all landed, at the very least. In the evening, we toured the National Mall, stopping by the major presidential monuments and war memorials. All in all, Tuesday was a great time. Monday and Wednesday were good days as well, full of several discussions and a trip to the National Museum of African American History and Culture, but Tuesday was the most directly engaging day of the workshop.
Much like I did on Sunday, I found myself very early on Thursday morning at the airport. This time, however, I bade farewell to newly gained companions–we had stayed up incredibly late the night before, sharing many laughs and reaching the well-known conclusion that my sense of humor is indeed very strange. Many of us went back home and are gearing up to start school again, but others, like me, endured long flights back to their respective parks to finish what was started. So what's next for me?
This is by no means an epilogue–that will have to come when I finish my term at DINO in a couple of weeks, and I still need to upload stories from June and July. Once that is complete, I will likely share my final thoughts on my Mosaics experience. Until then, I will be wrapping up my share of the collections work at this park in the hopes that it will make the next intern's experience at least a little easier, whoever they may be.
Until next time,
Tut