30 Jun

Self-isolation on San Juan Island: Two Fun Weeks

Two weeks ago, in the middle of a pandemic and global crisis, I packed up my most important belongings and flew from one airport near the Mississippi River to another by the Pacific Ocean.

Being a prairie kid from Missouri, where most bodies of water are filled with catfish and you can drive hours without seeing more than row crops and gas stations, coming to the Pacific Northwest was like setting foot on another planet. When I left home, the temperature was 100 degrees Fahrenheit and it. was. humid. In Seattle, where I stayed the night before heading north to San Juan Island, it was a pleasant 60 degrees and less sticky out. Everywhere I looked, I found sailboats, shipping vessels, and snow-capped mountains.
The next morning, I headed to the ferry station at Anacortes, where I struggled to carry two backpacks, a 49.5 lb suitcase (it would've cost extra to go over 50 lbs luggage on my plane!), a guitar, and a bike I bought an hour before off Craigslist onto the ferry all by myself. The ferry workers didn't seem pleased with me, and they gave me the stink-eye for making two trips to take everything up the ramp, which held up traffic for a couple minutes. I tied my bike up, and then climbed up to the passenger deck with my things.
Any hassle to get on the ferry was immediately shown to be worth it when I stepped outside and got to stand on the front of the moving ship (getting blasted by wind!) and took in the beauty of the San Juan Island archipelago: the water was a deep blue green, enhanced by the towering, rocky islands jutting out of the water, topped off by conifers. Gulls and cormorants were flying around as we sped through the waves, and at one point a Steller's Sea Lion popped up out of nowhere, seemingly as shocked to be looking at me as I was to be looking at it!
When the ferry stopped on San Juan Island, a friendly family from West Virginia helped me to carry one of my bags off, and then I was in Friday Harbor, the biggest town on San Juan Island. I took a taxi to my housing, met my supervisor, and got myself settled in. For the rest of my first week, I spent the majority of each day working from home as a precaution for COVID-19. In the evenings, when fewer people were out and about, from about 6 to 1030 (when the light finally fades from the sky!) I biked around the island and tried to see what there was to do. I only learned how to ride a bike in April of this year, and I actually didn't know how to change gears really until my fourth day on the island–which is very hilly—so I was limited to the nearby town for the first few days. My favorite spot in town so far is probably the harbor itself, where I first arrived. Many evenings I've gone there, as there are gulls and a pigeon guillemot that frequent the waters there, and the masts of dozens of boats at the San Juan Island Yacht Club have captured my imagination.
On my first Thursday in Friday Harbor, I learned how to properly use the gears on my mountain bike, and I also found out that I was riding in one of my lower gears (harder to pedal in) the whole time I had been there. Needless to say, venturing out became a little less daunting, and that day I biked out into the countryside, where I found a historical cemetery filled with wildflowers and hummingbirds in the middle of the island's interior farmland, as well as a nice view of the Cascade Mountains. The next day, I biked even further from my apartment to the False Bay Marine Preserve owned by the University of Washington—so named because at high tide the bay is filled with water, but at low tide it recedes 1000s of meters—where I found abundant great blue herons fishing as the tide came back in. After the tide came all the way back in and soaked my shoes sufficiently, I biked a few more miles to see my main work site, San Juan Island National Historical Park (SAJH), and its American Camp unit. The park was huge compared to how I imagined it—it's hard to really visualize a place just from pictures on the internet! I saw dozens of deer roaming the hills, as well as my first bald eagle in the park. I biked further down the road to Cattle Point Lighthouse State Park, then back up the hill just after sunset, where I took a little panorama of people having bonfires on South Beach below, with city lights to the southwest in the background.
My second week on the island was mostly the same as the first, with social distancing and teleworking during the day and bike exploration in the evenings. Early in the week, I saw black-tailed deer up close and personal (unfortunately I have seen people here feeding them, so they're very comfortable with humans and actually came up to me), and saw red foxes for the first time too near town while biking! Finally, on Wednesday morning I biked to False Bay and American Camp again and took the time to explore them better. I spent 12 hours out in the field, hiking around and photographing whatever I saw. Notable sightings were multiple species of butterflies and moths (which I will talk about in a separate post), four more foxes, and several bald eagles. Unfortunately, I didn't see any Island Marble butterflies, which are the species I am mainly going to be working with this summer, but I am hopeful I will see some next week!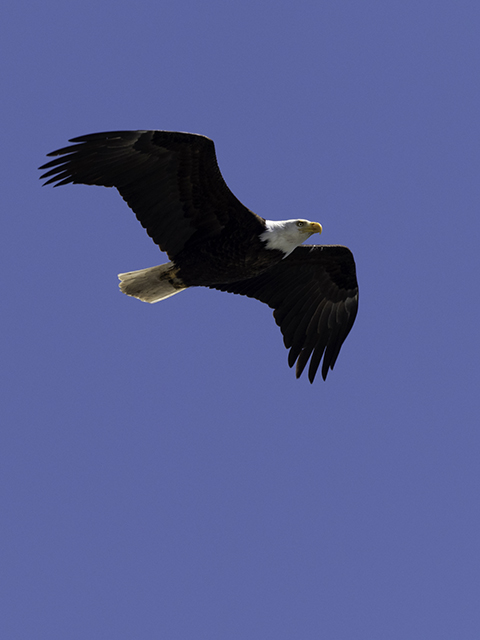 All in all, my first two weeks on San Juan Island have been breathtakingly beautiful and informative, to the point that I often spontaneously laugh at how lucky I am to be here working with such great people in the National Park Service and the Mosaics in Science program. As I write this blog, I am about a day away from being able to be in regular contact with people (after my 14-day self-isolation), and though there are far worse places to have to isolate, I am eagerly awaiting getting to meet the rest of my team and get to work in the field with them. Check back in soon to hear more about my adventures at SAJH!