07 Jun

Old places, but new journeys!

Hello everyone, and thank you for taking the time to read my blog! My name is Sahil Duvadie, and I am a Mosaics in Science intern for the summer of 2021 at the Boston Harbor Islands Historic and National Park. My background in this area is quite interesting, as I am privileged enough to have had prior experience volunteering and working with different organizations on the islands in prior years, including the New England Aquarium, Green Ambassadors, National Parks of Boston, and the Anderson Cabot Center for ocean life. The park is incredibly unique- it comprises 30 islands and 4 peninsulas in Boston Harbor, each with their unique history. The islands have a human record dating more than 10,000 years back, where native civilizations called them home to a few hundred years ago when some islands were used as quarantine locations for smallpox, then eventually transitioning into military bases.
Moving onto my current work through my internship with Mosaics, I am fortunate enough to be involved in statistical ecological work on the islands in two separate areas on Thompson and Grape island. My goal is to analyze prior data regarding percent coverage by both native and invasive flora species over the past five years, and help decide whether the current measures in place are beneficial to the eradication of the invasive plant species or whether the current protocols need to be reformatted. I was able to travel to Grape island with my team the other day to look over one of the planting sites for native species, as well as help remove an invasive species called mile-a-minute, or Persicaria perfoliata, from certain sections of the island. While we were there, we were able to see many cool artifacts of nature!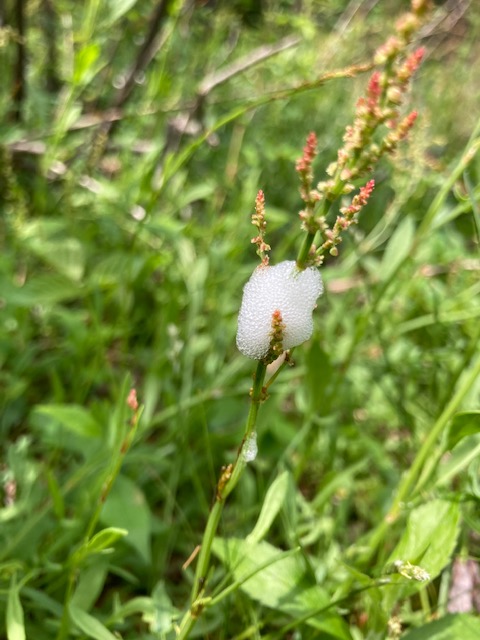 While it has only been one week of working on this project, I am incredibly happy to have witnessed and learned what I have thus far, and extremely excited to continue moving forward. See you next time!