14 Jun

Settling into the land of the lava tubes and its turbulent history

Lava Beds National Monument | Summer 2021 | Blog #2

Cover picture: the northern entrance of Lava Beds National Monument. If you hear people complaining about the rough pothole-y drive into the park, they're coming in from the park's south entrance–which is owned by the Forest Service, NOT Lava Beds!

Homesickness

I've lived in this state of California my whole life and I could not fathom the wave of homesickness I felt during my first couple days here. I wasn't even this homesick when I left home for undergrad! I'm only gone for two months! I've gone on longer spells where I haven't seen my family, friends, or partner in person! So why was I feeling so homesick? I've reflected on a few reasons why:
I had a jam-packed week of activities before moving here: with my brother and partner along the coast in Arcata, had my parents visit me in Chico after, then spent the next day relaxing with my partner (…not sure if binging Invincible of all things is "relaxing," but the notion of not doing much but watching is relaxing in itself.) Although I had packed away almost everything before this leisure time, I think maybe all of this enjoyment didn't give me enough time to properly mentally prepare myself for the big move.
I closed the 2 ½ year long-distance gap with my partner last year during the pandemic, and despite his support and encouragement I was sorely missing the comforts of our place for the first few days.
My nearest Asian grocery store is 2 ½ hours away, and my nearest fully-stocked grocery store is an hour away. I've been fortunate enough to live really close to an Asian market my whole life and Stockton has spoiled me with its variety, so having just one this far away was a bit of a shock.
Now that I've admitted this homesickness, I will also say I appreciate this challenge and know that it will help me grow for the better. I'm adjusting, and I think what helped me adjust was finally driving out to buy groceries and meal prep. I also appreciate the time that family and friends have taken to reach out to me, as well as how welcoming the entire team is here 🙂 I'm really grateful to be here! I've received plenty of recommendations from the team, from friends, and have looked into places to visit and can't wait to adventure out during my three day weekends.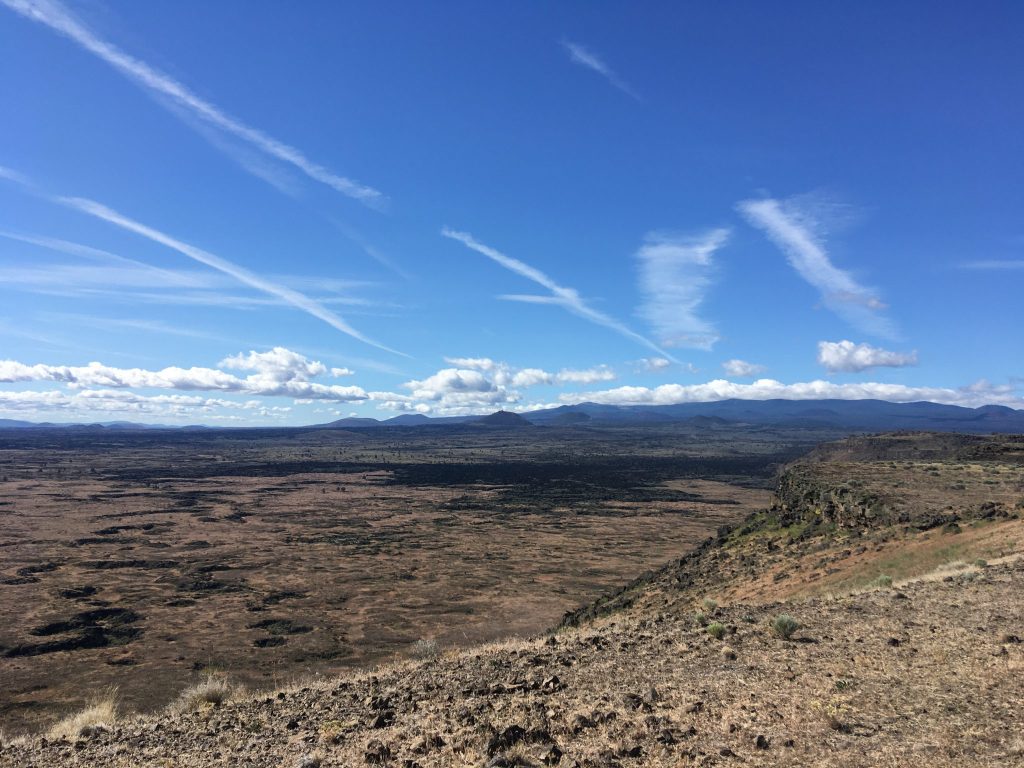 Lava Beds
Now, please let me enlighten you about this cool place that I get to call "work" and "home" for the next two months!
Since time immemorial, the Modoc tribe is indigenous to this land that we now know as Lava Beds. Modoc tribal members inhabit both Oregon and Oklahoma. The tribe inhabits two different areas because the Modoc tribe was forcefully relocated to Oklahoma after the Modoc War of 1872-1873.
President Calvin Coolidge established this monument by presidential proclamation on November 12, 1925.
Lava Beds is situated just north of the Medicine Lake Shield Volcano. Lava flows from this volcano from 10,000-70,000 years ago are responsible for the cinder cones, ancient lava flows, and hundreds of caves present here today. (If you watch my intro video from my last blog, I drop an estimate of the number of caves this park has!)
The Modoc War of 1872-1873 occurred here, and tribal forces were led by Kintpuash whom the US Army called "Captain Jack." You can visit "Captain Jack's Stronghold" in the park, which has preserved the general area where Kintpuash fended off the Army's attacks in the park!
In this area, the US established a Japanese prison camp in World War II to incarcerate Japanese Americans who refused to serve in the US military and who did not reject allegiance to the Japanese emperor.
From volcanic activity to settler history to war, the Lava Beds area has experienced quite a turbulent past—but why am I telling you this? Context of the area is always appreciated before diving in (at least, for me it is) and I hope this background info will make reading my future blogs a little more exciting.