22 Jul

greetings from point reyes!
Hello and welcome to my blog! My name is Deja Olumba, and I am currently a junior at Texas A&M studying Wildlife and Fisheries Sciences. I am very lucky to be spending this summer as a fisheries monitoring assistant at Point Reyes National Seashore!
As you can probably infer from my school, I am from Texas! I grew up in Houston, Texas and have not strayed too far from the state before now. Point Reyes is a long way from my home being in Northern California, but that makes the experience all the more exciting as I get the opportunity to work in an environment that is new to me. I applied to become a Mosaics in Science intern for this very reason – to be able to explore unfamiliar ecosystems and the organisms within them! This is my first time working with fish, which has been a goal of mine to experience before I leave undergrad, and I can't imagine a more perfect place to do it.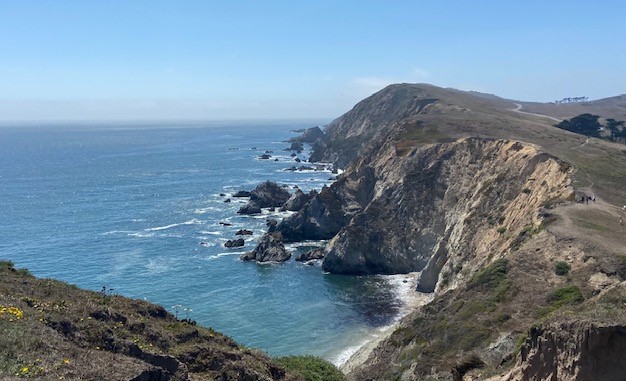 My work here will involve monitoring the population of salmonids in the park and in the San Francisco area, particularly Coho and Steelhead. Coho salmon are currently classified as endangered by the Federal Endangered Species Act and are estimated to be at 1% of their historic population size. This experience will be my first time working with an endangered species, and I am looking forward to learning how the status affects the work being done with the species.  
My love of nature began watching the wildlife in my backyard at home, and I had no idea that this would expand to the scale of a national park. Before coming here, I had never been to a national park, so it is a privilege to be able to work at one! I'm looking forward to exploring the park during my time here, both in my work and recreationally. I hope you'll stick around to hear more about my experiences!