14 Jul

I'm Having a good time but climate change is real

My favorite part of my Mosaics in Science internship so far has been my work environment. Yes, I love the people I work with in the Park – and they are all incredible. However, I also can not get enough of the breath-taking ecosystems I am surrounded by. On any given day, I might be in an alpine meadow, near a subalpine lake, or traversing snow to get to a wolverine camera station. I will walk you through a day in the field I had recently…

It's July 06, a gorgeous day at Mount Rainier. Lucky for me, I get to work in the subalpine/alpine habitat of the Park #ThanksMosaics, #CascadeRedFoxes and #Wolverines. After hiking in a few miles towards a wolverine camera station in the Park with my field partner, we came across something quite peculiar. Before we knew what was coming, we saw SO MANY tracks! Now these were not just any tracks, they were wolverine tracks.

My field partner and I were instantly STOKED. It isn't every day that one sees wolverine tracks, as they are elusive creatures that can traverse crazy landscapes. Landscapes that my feet definitely don't know how to get across most of the time. So, we followed the tracks. Followed them up, followed them down. The wolverines must have traversed through the land we were on in the last 12 hours, as the tracks were fresh. At this time of year, in the heat of summer, tracks usually dissipate within a few hours.
As we followed tracks, we found and collected scat as well.
Now, I have always been told that wolverine scats are not easy to find and now I really understand why. The scat was laid across shallow streams and just straight into the snow. That being said, the scats would become waterlogged within hours – besides the ones that already were. When trying to study individual wolverines through their scat, those elusive mustelids don't make it easy.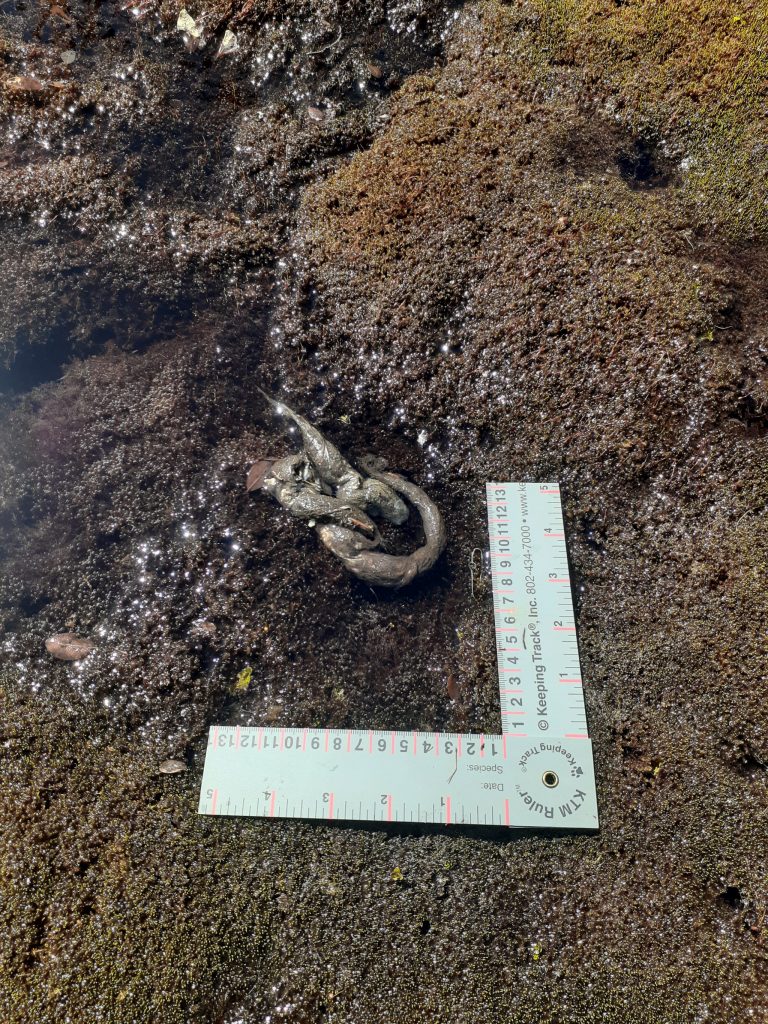 My field partner and I had a full day of snow-tromping, camera setting, and scat collecting. All in the beautiful ecosystem that provides so much for these wolverines. Doing this work, I find myself thinking a lot about refugia since the last glaciation and how climate change will impact these already rare species. I love studying these animals but as people, we have some serious work to do. It has been one of the warmest summers in the Park with continuous sun and no rain. This means fire danger is high, snow is melting fast, and glaciers will retreat a lot. We need to ensure these spaces continue to exist and provide elements of habitat required for rare carnivores like Cascade Red Foxes and Wolverines.