12 Jul

Lava Beds's "sister monument": Tulelake National Monument

Lava Beds National Monument | Summer 2021 | Blog #5

Cover picture: An old picture of Tulelake Segregation Center (taken sometime in 1942-1946) juxtaposed against a picture from the present-day site of where the center used to be.
WWII History: Before Achieving National Monument Status
I write about this monument in particular because the establishment of this monument is for the preservation of World War II history associated with the Tulelake area—which, as a reminder, is also where Lava Beds National Monument resides.
In 1942, shortly after the bombing of Pearl Harbor in 1941, President Franklin D. Roosevelt signed Executive Order 9066, which called for the removal and internment of Japanese and Japanese Americans living along the west coast. Internment camps (also known as relocation centers), which were meant to be temporary, dotted the west coast and even extended to Arizona and Arkansas as places to relocate the Japanese. One of these relocation centers was located in the Tulelake area, which is about 5 minutes south of the California-Oregon border.
If you only had about 5 minutes to pack two suitcases worth of your personal belongings, what would you take?
Tulelake first functioned as a relocation center; however, after the release of a questionnaire that tested Japanese loyalty to the United States, Tulelake became an imprisonment center to send those who did not answer that questionnaire favorably. Specifically, if someone didn't answer the following two questions with a "yes,"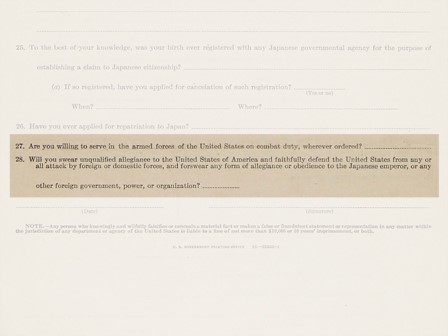 (I know that picture is small; the questions are:)
27. Are you willing to serve in the armed forces of the United States on combat duty, wherever ordered? 
28. Will you swear unqualified allegiance to the United States of America and faithfully defend the United States from any or all attack by foreign or domestic forces, and forswear any form of allegiance or obedience to the Japanese emperor, or any other foreign government, power, or organization?
then they would get sent to Tulelake Relocation Center, where it was then rebranded as the "Tulelake Segregation Center."
The Japanese who got sent to Tulelake Segregation Center after failing to answer these two questions on the questionnaire "the right way" were then deemed as disloyal "no-nos" (in reference to answering "no" for each question.") Because so many Japanese got sent to Tulelake Segregation Center after that survey, it quickly became the most populous relocation center of the 10 that were originally established.
Tulelake National Monument also encompasses Camp Tulelake, shown in the picture on the right. Camp Tulelake first functioned as a Civilian Conservation Corps camp during the Great Depression, which allowed for the creation of many trails, roads, and areas at Lava Beds National Monument that are still used today. Years later, this same camp also housed Japanese Americans farm laborers in 1943 and prisoners of war from 1944-1946.
Preserving WWII History at Tulelake National Monument
Before the area encompassing Tulelake Segregation Center and Camp Tulelake became a the Tulelake National Monument, the area was initially established as one of the sites in the "World War II Pacific in the Valor National Monument." This World War II Pacific in the Valor National Monument was created by President Bush in 2008 to honor the history of the United States's involvement in the Pacific Theatre during World War II, but many understandably thought that the name of the monument was inappropriate for remembering the injustices that the U.S. government inflicted onto 110,000+ Japanese Americans. In 2019, the Dingell Act abolished this monument and replaced it with three commemorative national entities. Tulelake National Monument was one of those entities!
(A side note in relation to the blog's title: I refer to Tulelake National Monument as Lava Beds's "sister monument" in my title because administrative tasks and additional duties for for Tulelake National Monument are carried out by Lava Beds. and, if I remember correctly, some or all employees technically have dual employment at both Lava Beds and Tulelake National Monument because of this.)
Tours for the Tulelake National Monument are operating again, beginning their tours around mid-June. This two-part tour consists of caravanning to different areas of significance. For the sake of not spoiling the tour, I've limited the pictures and information that I've shared on here—there is plenty more to learn about from the tour! Yesterday's injustices are threatened to be repeated today if we do not learn from the mistakes of this country's past. Let your visit here be one that is open to acknowledging and seeing one of the countless faults of the United States of America.
This tour provides much-needed perspective about the Japanese experience in the states during World War II. Aside from reading George Takei's visual novel about his childhood experience in the Tulelake Segregation Camp (which I'd highly recommend), what I knew about Japanese involvement from WWII was whatever I read in books, learned from classes (which were often taught from the pro-American bias), or remembered from my grandmother's tearful retellings of the Japanese in the Philippines during WWII. I appreciate learning this perspective and hope you do too, so please book a tour if time and travel plans allow.
Tulelake National Monument is currently loaning an area out of the Tulelake Fairgrounds to conduct their tours. They plan to have their own visitor center building sometime in 2022 or 2023. I did this tour shortly after they reopened in June, and had planned to take my parents here this past weekend—only to realize that I never actually called in to reserve spots for us! We'll do the tour when the official visitor center building is finished and open to the public 🙂