28 Oct

Goodbye from the Mountain

I still remember the day I first heard of Mount Rainier National Park. To be fair it wasn't long ago. Embarrassingly, I had never heard of Mount Rainier until I applied for this job last winter. Although I'd once been to Olympic National Park when I was fairly young, I didn't know what Rainier would be like. I figured the mountain would probably be fairly small, rainy, and unimpressive. A quick Google search suggested that my first impressions might be wrong, but I tried not to let myself get too excited. There was no way such an otherworldly crossroads of ecosystems could exist. Where else could I visit the alpine realm of ptarmigan, jump into crystal blue rivers, bake in the sun with panting elk, and return to my comfortable house all in one day?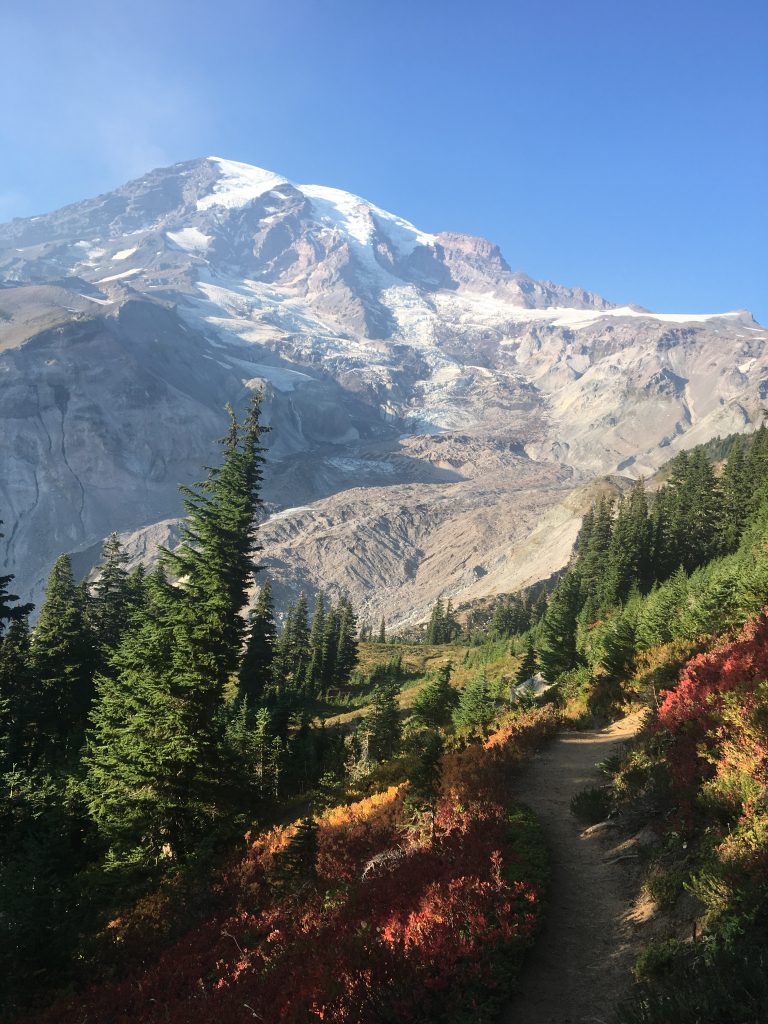 As my internship comes to a close, I'm still trying to wrap my brain about how to comprehend my season, let alone write about it in a blog post. I could try and describe it in trout caught (hundreds), bears seen (14), or pods of orcas watched (1). Would the number of berries eaten (1000's) be better? Or maybe the sunsets (~150)? I could try it in the number of birds species I've seen (115), life birds I'd never seen before (7), or non-Spotted owls I got to see at Rainier (3).
Perhaps it's just easiest to say it can't be captured in words alone. Fieldwork is definitely an activity that attracts the lowest of lows and the highest of highs. There were times when I'd stagger through the forest soaked from leaves and bleeding from thorns, my pants torn and my arms smeared with elk droppings from wriggling under logs. And then there were the days where I watched baby Sooty grouse blissfully wander through a meadow, coming within inches of my feet. The days when we'd accidentally catch an American dipper in a bat mist net and I'd get to release it. The days when I'd finish work and jump into a pack-raft to enjoy the sunset on a mirror-still lake.
It was only right for me to go on one last adventure before my season ended, so last week I joined a team from the Cascades Carnivore Project as we set up a number of carnivore camera trap stations to try and record wolverines, foxes, wolves, and fishers during the winter months.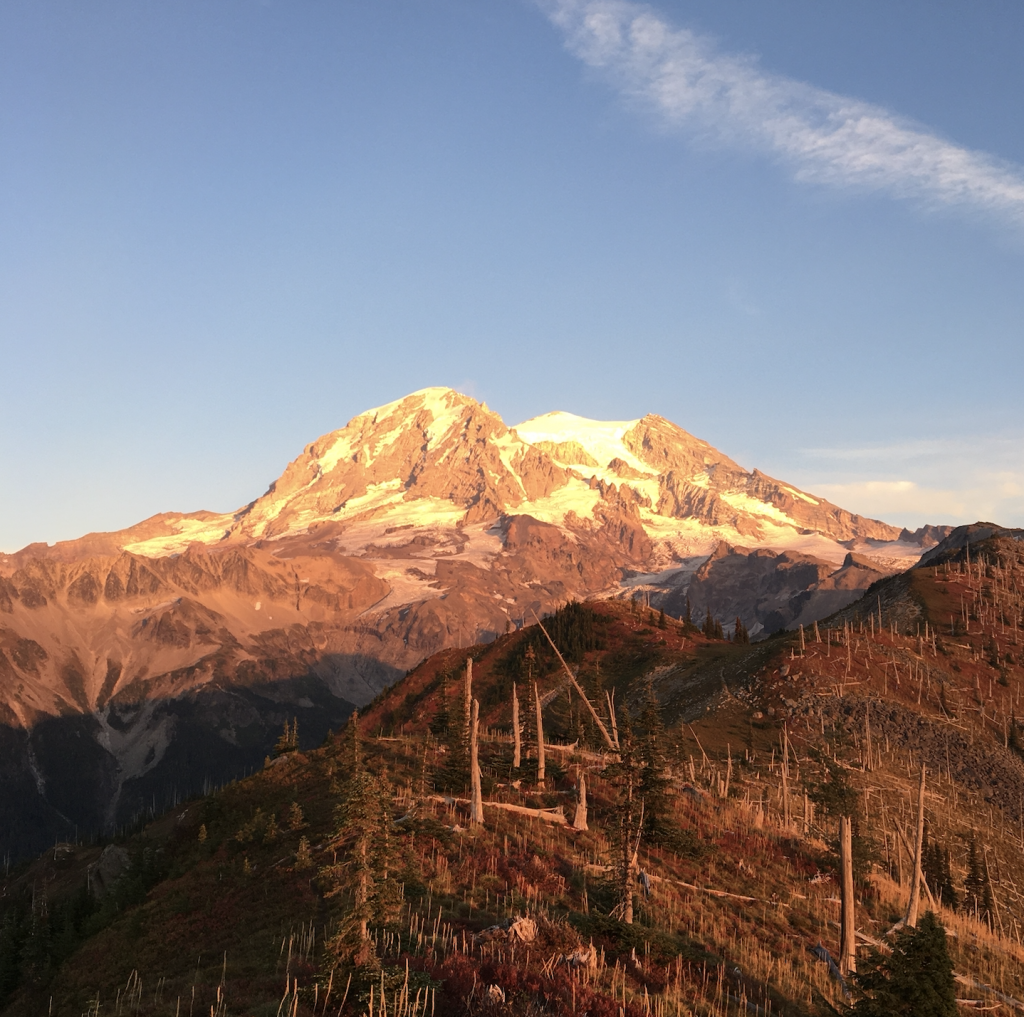 Without a doubt, the work was hard. Heavy packs, 16 mile days, and hiking in the dark were normal. However, the beauty of such tough days quickly became apparent to me on our first trek, when we crested a mountain pass and found ourselves in a stunning valley all to ourselves. From rutting Elk bugling their mating calls to Sharp-shinned hawks zooming by on migration, I felt like we were the first people to set foot in these wild hills (although a number of footprints and old campfires would say otherwise).
On Wednesday night, I spent my last night of the season camping under the stars. The season had been abnormally warm, and even in late October the days were sunny and hot. That was soon, to change, though. Upon waking up in the morning, I was greeted with a stunning view of lenticular clouds circling Rainier's summit. Supposedly, these saucer-shaped clouds are a good sign that a changing weather front is on the way. Throughout the day, I watched clouds roll in, and felt the first drops of rain in months. Summer had officially ended, and I was there to watch winter begin! By the weekend, snow had fallen, rain was pouring down, and the air was cold. Everyone at Mount Rainier was happy to see the long-overdue rain, which will help revitalize park streams and dampen nearby forest fires. At the same time, I was grateful the rain had waited until my season was almost over!
I learned a truly incredible amount over the past few months. From new wildlife survey techniques (demographic monitoring, camera trap, small mammal, and fish redd) to random life skills (driving a minivan through Seattle traffic or opening a can of food without a can-opener), this internship better prepared me to take on the world as both a scientist and a human being.
One thing I hadn't expected about this job was occasionally interacting with the public. For the most part, my work took me to places park visitors tend not to visit. However, I still had plenty of opportunities to interact with the public. And although there were definitely some people who didn't follow the rules of the park, the vast majority of visitors to Mount Rainier impressed me with their appreciation for this special place, and their dedication to make sure future visitors and generations could also enjoy it. I was also involved in two unexpected visitor SAR (Search and Rescue) incidents when I was in the field. Both times I was in the middle of nowhere and was the only person able to assist in resolving the situation. Luckily, both cases ended safely and happily, but they really showed me what being a National Park employee means. In addition to helping protect the wild ecosystem, there is also a responsibility to look out for visitors and ensure that they leave with the same wonderful memories and understanding of the benefit and necessity of wild places to people that I've had the privilege to gain this season.
Well, I guess that about sums up my season! What a wild and wonderful past five months. I have no idea where I'll be in the next five years, but I know for certain that my amazing, adventurous, and awesome times at Mount Rainier will stay with me for the rest of my life. If you haven't already been, I think Mount Rainier deserves a place on your bucket list! From the trout-filled glacial basin of Snow Lake (my favorite place in the whole park) and the rolling views from Knapsack Pass, to the rushing beauty of the Paradise River and the peaceful village of Longmire, I can't think of a more wonderful place to spend a few (or many) days!