19 May

Welcome to The Good Life

Every good story has a journey.

Prior to May 7th, I had never stepped foot in the great state of Nebraska before, so, naturally, everything around me seemed and is seeming to be so special and amazing. Nebraska is home to two of the best slogans I've ever heard. For a long time, the tourism campaign's slogan was "Nebraska… The Good Life," which personally, sounds like a t-shirt I would love to wear. In more recent years, as Chelsea, one of my coworkers, mentioned to me, the tourism campaign decided to take a different approach with the new slogan; "Honestly, it's not for everyone." There's something so funny about a state accepting that while everyone might not like it, those who do, happen to love it. Surprisingly, or maybe unsurprisingly (and just what Nebraska wanted), tourism numbers skyrocketed! I have always loved going to unique places that I've never been to before and not many people have yet explored. I had high expectations for this place, and I have to say that they were definitely met.
From first entering Nebraska and visiting Lincoln, the capital, and the state capitol building, to driving through Kearney to get a McDonalds ice cream (the machines were not broken :D) and seeing the greatest number of train tracks ever, the journey has been fun so far. While living in and exploring Scottsbluff for a couple of days, my dad and I hiked to the top of Scottsbluff National Monument and had an amazing view of the city, and I heard rattlesnakes for the first time.
Prior to May 9th, I had never lived somewhere as remote as Harrison, NE. On my way to move into the park housing at Agate Fossil Beds National Monument, where I am working as a Mosaics in Science (National Park Service and Environment for the Americas) intern this summer, we took a quick detour to visit Harrison. Harrison is approximately 30 miles north of Agate, with a population of 238, and an elevation of 4866 ft, and is therefore known as 'Nebraska's Top Town." Upon entering the town, a friendly person named Jill allowed us to look around her museums housing amazing pieces of history. I remember seeing a sign on the museum doors that said something along the lines of 'Closed until Memorial Day,' but Jill came out and said "technically if I'm here it's considered open!" Two of the items that I found most intriguing were the large archival plat maps of Sioux County from year to year and an original copy of a newspaper from 1948 with headlines about the intense blizzard that came through here.
If you are wondering what I'm doing at Agate Fossil Beds National Monument and want to hear more about that, do not worry, I will definitely be writing more about that in future blog posts. If this was a book, think of this post as a foreword.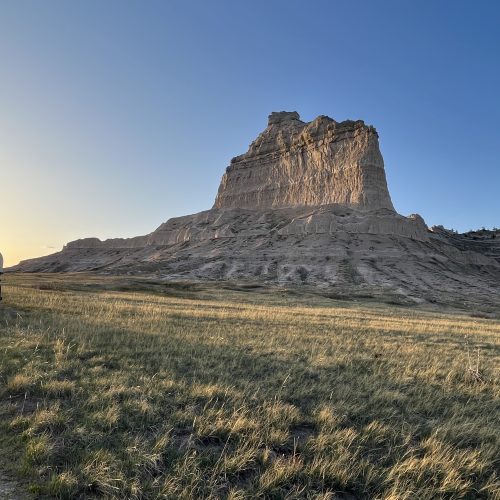 Previous image
Next image