13 Jun

Getting to know Yosemite

The first few weeks in Yosemite National Park have been without doubt the best summer days of my life. I have hiked, gotten soaked in waterfalls, met interesting people, witnessed granite mountains, seen bears, and the best part, helped in the conservation of the the Great Gray Owl (Strix nebulosa Yosemitensis). The meadows I'm working on are a beautiful and unique ecosystem, offering wildflowers, water, and a home to most animals of this park.

Between training and working, I have witnessed but a brink of the astonishing scenery in the Sierra Nevada.
Training
Yosemite National Park only operates thanks to the conjoined efforts of different departments working towards one common mission, to conserve nature in the Sierra Nevada for all generations. Thanks to orientation and training sessions, I got familiar with other departments and projects around the park. Having National Park Service scientists and experts educate us about the geology, culture, prescribed fires, and wildlife projects provided me an insight of the dedicated employees who maintain this national park.
Field Work
Working in the field is without doubt the best part of this internship. Between the training, scenery, and biodiversity I've experienced, field work is already a marvelous time for me. I will spend most of my hours in meadows because they are the preferred habitat of Great Gray Owls (Strix nebulosa Yosemitensis). My responsibilities consist of radio telemetry tracking and vegetation protocols to assess Great Gray Owl habitats. Other responsibilities include helping in other wildlife projects. I have been able to use radio telemetry to track three different tagged Great Gray Owls during the past weeks. After tracking them, perching sites are flagged to realize a vegetation plot. I also use forestry instruments to collect Great Gray Owl perch and habitat data. Bellow is one of our female Great Gray Owls.
I am using a d-tape to take the diameter at breast height of this Ponderosa Pine

Female Great Gray Owl (Strix nebulosa Yosemitensis) perched in a pine branch[/caption]
Hiking
Yosemite National Park offers natural beauty in four geographic areas: High Sierra, Granite Cliffs, Sequoia Groves, and Valleys. Until now I have been able to appreciate the valley and granite cliffs surrounding it. Some hikes I've done are Upper and Lower Yosemite Falls, Mist Trail, Four Mile Trail, Bridalveil Falls, and John Muir Trail. All trails with amazing waterfalls, valley, and granite cliffs views. These are spectacular granite mountains that are only possible because of glaciers and geographic processes that shaped the valley for millions of years. The High Sierra is closed due to snow and I've yet to visit the Sequoia Groves, just yet!
With such a diversity of environments and wilderness, Yosemite will be an incredible place to explore and admire. I'm beyond excited to study the Great Gray Owl endemic subspecies to the Sierra Nevada. Alongside our amazing owl, I'll also be aiding in other wildlife projects such as fisher, spotted owl, bird banding, songbird point counts, and others. I am certain that I will end this summer with richer knowledge and experience in the fields of ecology and biology.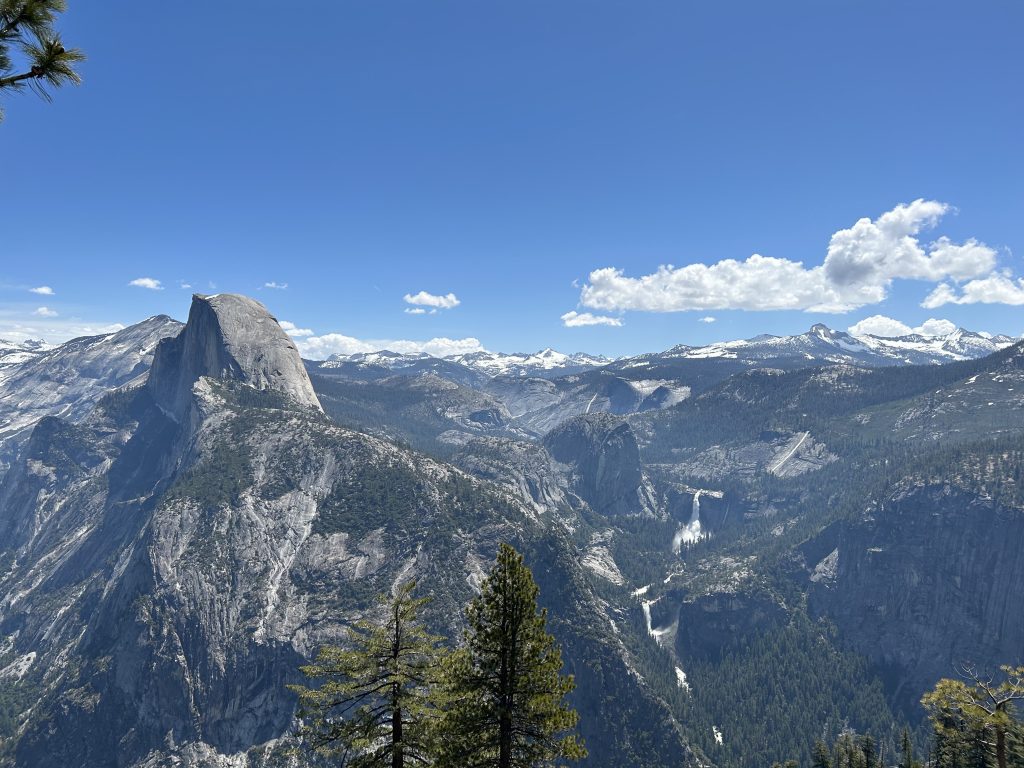 The Sierra Nevada has sparked a great fire in me – a fire that wishes to explore the mountains, valleys, waterfalls, and vast wilderness that surrounds me. I wish to not only protect the wildlife in this great park, but to live among it.