25 Jun

My Double Life as a Spy Instructor

My favorite part of this internship is doing things that are outside of what I normally do (lake surveying, E. coli testing, and macroinvertebrate sampling). These things include going on copperhead calls, accompanying bird and bat surveyors, and helping with rare plant (Isotria medeoloides) surveying.
The week of June 18th, from Tuesday to Thursday, I was afforded the opportunity to spend each day with the park's Spy Camp. Spy Camp is a three day long summer camp program for kids 9 to 12 years old. From 1942–1945, the Office of Strategic Services (OSS), the precursor to the modern-day Central Intelligence Agency (CIA), used the park's (then called the Chopawamsic Recreational Demonstration Area) cabin camp areas as secret training areas. Spy Camp engages campers in skills and knowledge that were learned by OSS trainees when they were in the park. Unfortunately, it did rain all week; however, as Ranger Kerri (the overall person who made sure Spy Camp came together) said, "Spies train in any weather."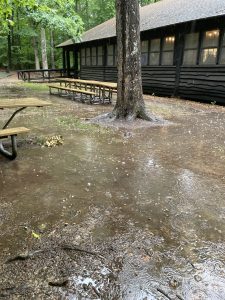 Campers participated in an obstacle course, basic first aid, knot tying, creating a spy persona, archery, land navigation, and using Morse code, which I assisted in.
The week culminated in a final skills test in which campers had to use the skills they learned throughout the week to rescue Agent Adam by following clues.
It was not only the campers who learned skills this week, I did as well. Despite being a Geography major, I had never learned how to use a compass and map, this week I did!
I attempted to learn some knots along with the campers as I regularly have to knot up rope so it does not slip when I am doing my transect lines for the lake survey. However, I don't think the knots the campers were learning were particularly applicable for my situation. Oh well.
I am also grateful for all the great park staff and volunteers I got to meet and work with.