27 Jun

Pinnacles, Plants, and Peregrines: A Camping Adventure

In mid-June, I had the opportunity to join a four-day camping trip to Pinnacles National Park, where I spent time with the botany, raptor, and riparian monitoring teams to learn about their research and collect media materials. Below are some highlights and observations from each of these field work experiences!
Plant Community Monitoring
Highlight: Taking time to closely observe Pinnacles' many grassland species. 
Upon first glance at the botany team's survey plot, the area—surrounded by sculpturesque rock formations and the craggy Gabilan Mountains — looked to me like a homogenous field composed of the same sweeping yellow grass. 
As with many things, I learned that one just needs to look a little bit closer to find that there is always more than first meets the eye. The botany team laid out a transect and did quadrat surveys to determine species richness and diversity. Within the survey area, there was an assortment of plants, including the common wild oat (Avena fatua) which predominated the area, pungent-smelling vinegar weed (trichostma lanceoltum) and thorny orange-yellow tocolote (Centaurea melitensis).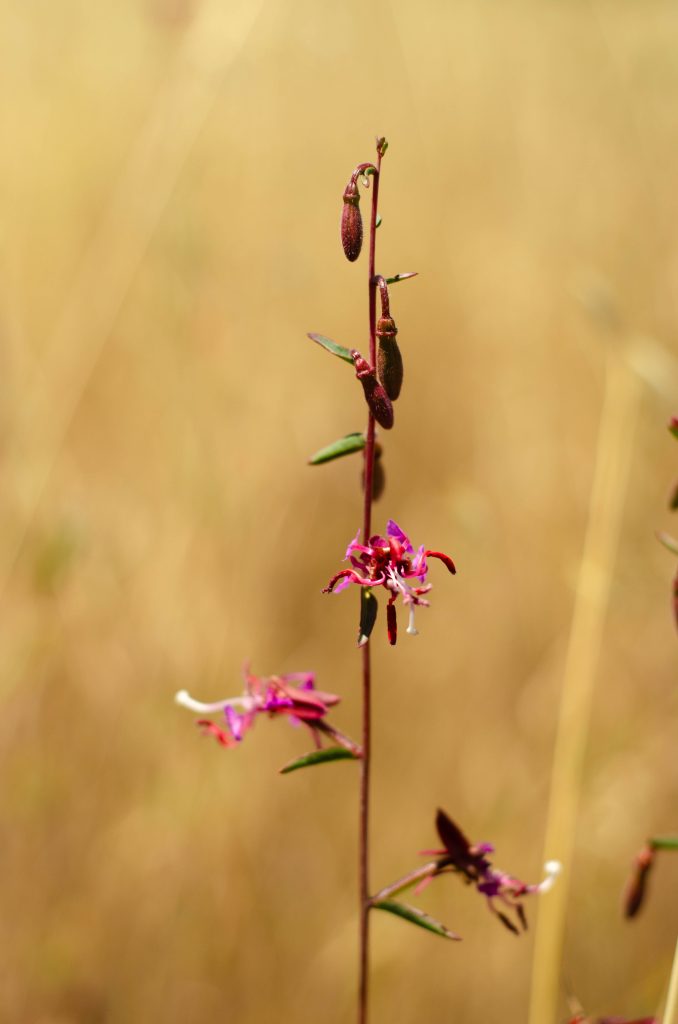 Prarie & Peregrine Falcon Monitoring
Highlight: Spotting prairie falcon fledglings stretching their wings and having a meal!  
Along with wildlife biologist, Gavin Emmons, and condor monitoring intern, Idangie, I hiked through dense chamise (Adenostoma fasciculatum) shrubs exploding with pollen, on a mission to observe a prairie falcon (Falco mexicanus) nest. For the past months, Gavin has been monitoring this nest and watching the chicks grow. We were visiting to see whether the birds had finally fledged—and they had! Three were perched around the rocky cliff nesting sites, and feasting on a ground squirrel, which had been delivered to them by a parent. Afterwards, we also checked peregrine falcon, red-tailed hawk, and red-shouldered hawk nests. 
Riparian Habitat Monitoring
Highlight: Meeting Lilley and Kaity and seeing a group of tadpoles! 
Riparian interns, Lilley Brookshire and Kaity Bocik, demonstrated the process of conducting surveys of riparian ecosystems, including noting plant species growing in the area, and doing transects to measure the stream's width, canopy cover, and gravel size. We even caught a glimpse at Pinnacles' only native fish, the three-spined stickleback (Gasterosteus aculeatus), and a group of tadpoles gliding in a pool of water.
Spending time with each of these field teams and having a glimpse into Pinnacles' fascinating biodiversity and geomorphology was an enriching experience, and I hope to visit again in the future!