16 Jun

You Had Me At Turtle
A little bit of fun background info...
Elliott Key, represented on the map, is located 7 miles off shore and it is within Biscayne National Park boundaries in Miami-Dade County, east of Homestead. It is a connection of approximately 7 miles long of ancient coral reefs that are now above sea level, and are bordered by the Atlantic Ocean to the east, and Biscayne Bay to the west. Something interesting to notice is that the higher elevations within the key range is 6-8 feet, which is not one of the lowest points within Southern Florida. This elevation happens generally along an unimproved road that runs through the center of the island called 'Spite Highway' constructed by spited and rich landowners after their proposal of constructing intrusive urbanism was rejected by congress.. Instead, Biscayne National Monument was created to protect marine, terrestrial, and bird species within this area, which later became Biscayne National Park. Activism and Conservationism's movements certainly won that day!!
This connection of reefs is home to different species of flora and fauna both in land and sea. Sea turtles are the perfect example of when land and sea need each other. Sea turtles, such as green, leatherbacks, but especially loggerheads, find in Elliott Key their nesting grounds. Juvenile and adult loggerheads live in USA coastal waters, and the adults that nest in our beaches generally come from Bahamas, Cuba, and Mexico, but also U.S. waters. Sea turtles are highly important in marine ecosystems because they help maintain the health and dynamism of these by, for example, maintaining coral reef ecosystems and transporting essential nutrients from the oceans to beaches and dunes by laying their eggs. 
Because of different climatic and anthropogenic reasons, there has been a decline in nests along Elliott Key. Loggerheads that do make it to the beach, sometimes will go back due to different difficulties encountered such as trash or debris accumulated, vegetation, rocks, between others. This is why 'sea turtle nesting surveys' done by Biscayne National Park are so important, not only to share some light into these issues, but to come up with better solutions.
Vanessa Walsh and Morgan Wagner are biologists at Biscayne National Park and are part of the Florida and Wildlife Inventory and Monitoring Program (FWIMP) that oversees the health and state of the bay. Vanessa and Morgan are the people in charge of taking us (the interns) to do sea turtle surveys at Elliott Key. They have also been doing this incredible work for a long time, and their strength and optimism is refreshing and inspiring for me. They have taught me from start to finish every step and loophole of sea turtle nesting monitoring in such a difficult terrain that Elliott Key presents for turtles and surveyors. 
The process of sea turtle nesting surveys can be described in 4 steps: 
Preparation
Disembark
Identification (false crawl or nest)
Embark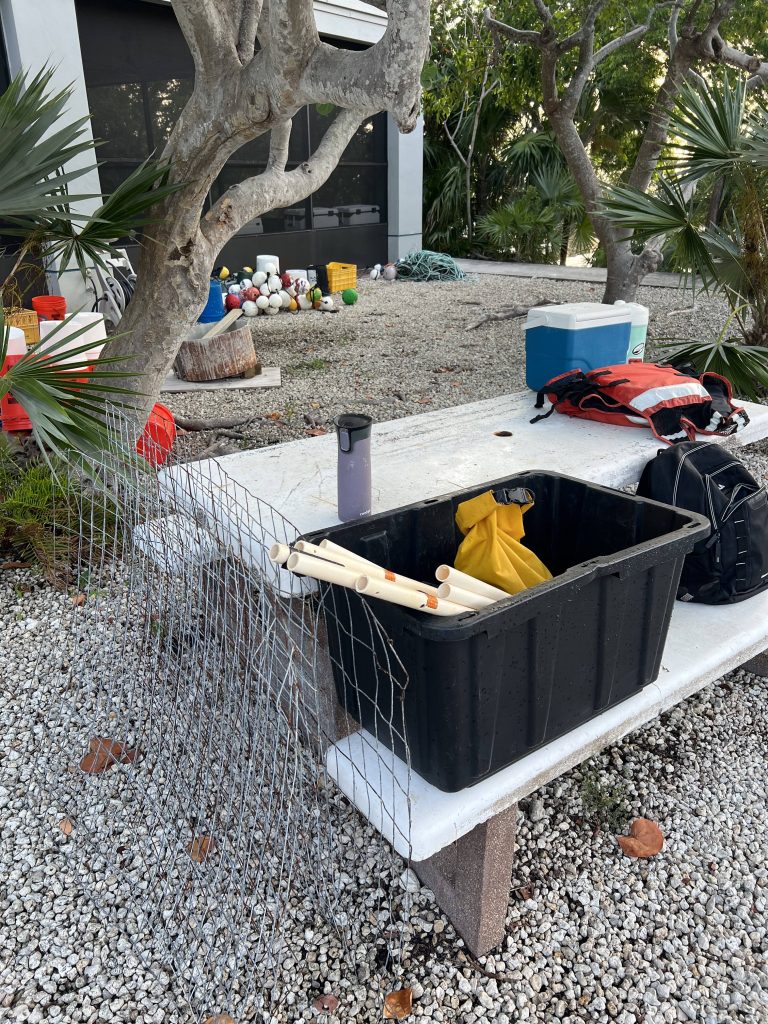 Before leaving for Elliott Key, there are a few materials that need to be prepared. These materials include two bags, one with GPS device, identification sheets, marking tape, measuring tape, markers, and pencils. The other one is equipped with a hammer and nails to put the grate over a nest if found. In addition, we will need grates and stakes to differentiate between false crawls and nests. 
Because the water is really shallow and home to endangered marine ecosystems, such as seagrass and corals near Elliott Key, it is necessary to disembark from the boat with some pronounced distance to avoid damaging or unnecessarily disturbing these ecosystems with the presence of a boat motor. Once we disembark, we need to walk like rays, by moving our feet really close to the ground and with small movements to avoid damaging the seagrass and other species like, of course, rays, and ourselves. The more you get near the shoreline, the more rocky it gets, so it is important to be extra cautious.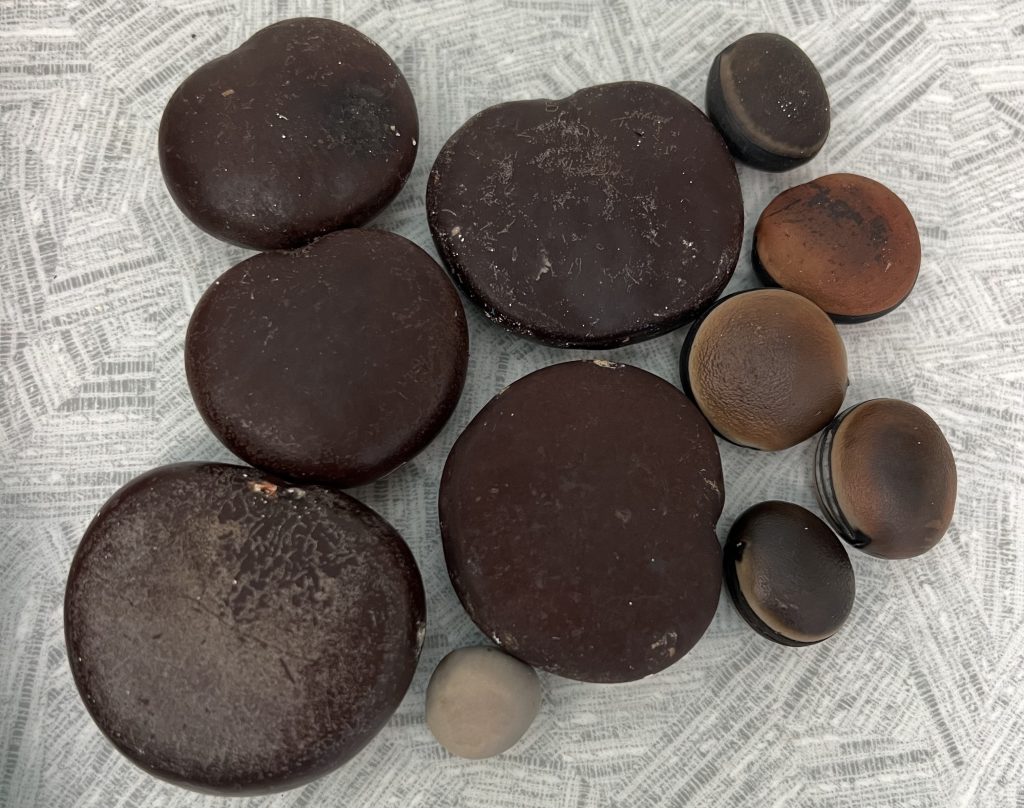 3. Identification (false crawl or nest)
Once we are on the beach, we have two other responsibilities aside from spotting sea turtle nests and/or false crawls that are done simultaneously. We also pick up specific debris and sea beans from the Amazon. 
Identification: we walk all different beaches along Elliott key to find sea turtle nests. These beaches have acquired different names due to volunteers, workers of the park, and donators. We walk along these beaches as long as the shoreline and mangrove forests allows us to, and embark and disembark again in spaces where we are able to enter. If a nest is identified, a grate is put over the possible nest space to protect the eggs from raccoons and iguanas' predation. If a false crawl is found, which is when the turtle starts to nest, but abandons the spot due to different reasons, that needs to be identified as well. Among the reasons why a sea turtle will abandon a nesting attempt are: vegetation, trash, amount of rocks, and/or other. 
Picking up debris: this part is key for helping the resource management team with data collection on crab and lobster traps. Within the boundaries of Biscayne National Park there is off and on season for crabs and lobster. This means that when it is on, fishers are allowed to place these  traps within specific zones, but when it ends, they are supposed to remove them. If fishers do not remove them because of different reasons, these traps, and specially the top of them, have the tendency to wash offshore. We collect and count them to be able to assess if people are attaining to regulations, and enforcement efforts are working. If only the tops of the traps are found, this is useful to have an idea of how many traps are still in the ocean. In addition, we also collect balloons to avoid entanglement from sea life. 
Sea beans from the Amazon: these seeds travel with the currents once they make their way into the ocean. But their path to get to our beaches is extensive. These seeds grow all the way South in the Amazonian rainforest and produce attractive flowers, and some of them make their way into rivers. Some of them can be drifting for up to 30 years with the currents. During summer, when sargassum is thick and washes offshore, these sea beans get caught in them and between it in the wrack line is where I usually find them. The reason we collect these seeds is because here at the park, we use them, specially Sea Hearts and Nicker-bean to make key chains for our volunteers as a token of appreciation. These seeds are also supposed to bring good luck when found. Every time I find one for some reason I feel happy and content, and it makes me think about how interconnected nature really is.
Loggerhead characteristics
Loggerhead nests are particular and distinctive because of the amount of splash they create and their specific crawling pattern. As a loggerhead crawls, it will push sand backward with every flipper stroke. They have altering limb movement, no tail mark, and the track width is approx. 25 in. 
The same process that was used to disembark is used to embark to the boat. Once at home base, the crab and lobster traps and tops, balloons, and overall trash is weighted, counted, and finally, thrown away.