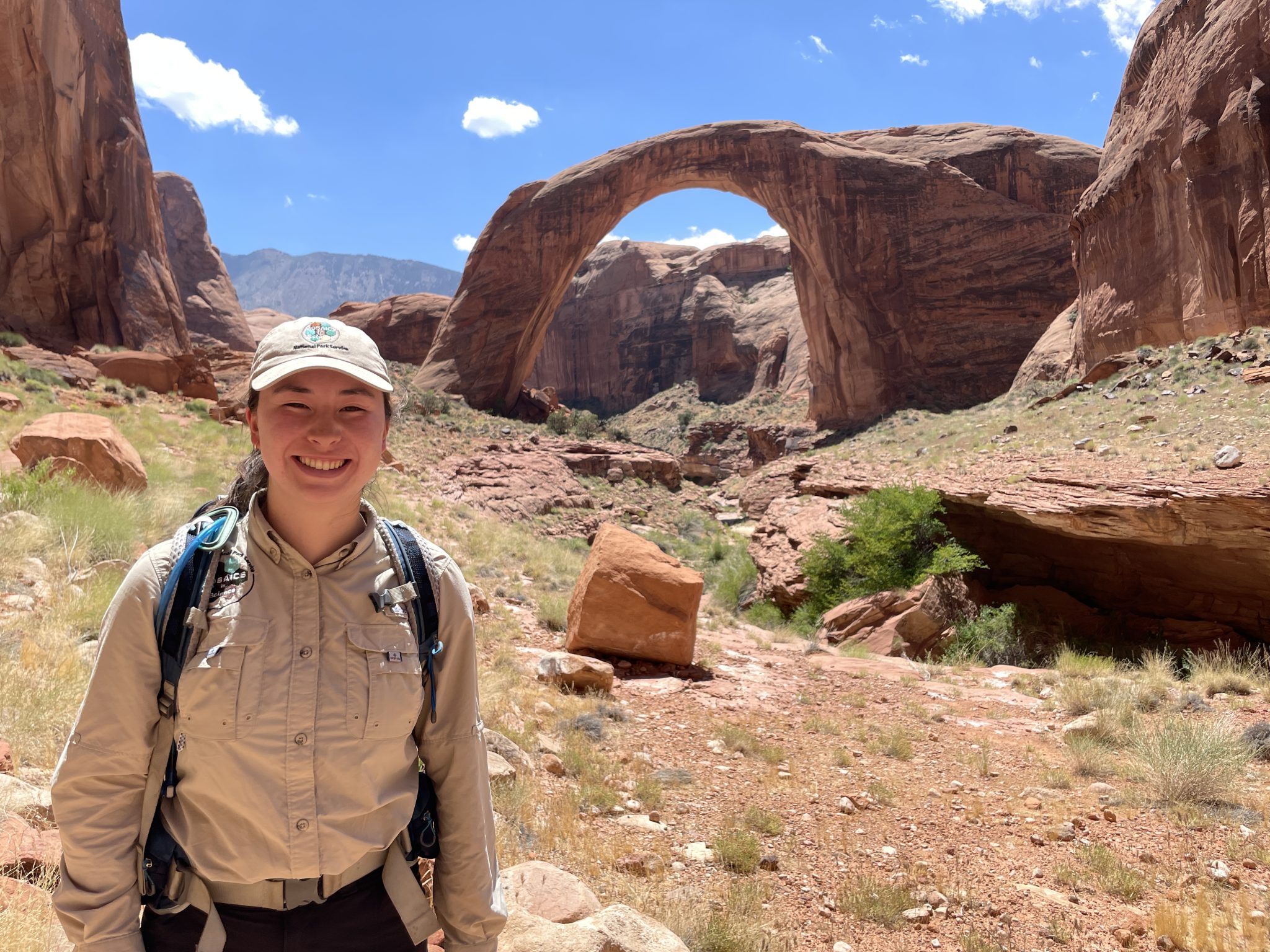 17 Jul

Climbing the Grand Staircase

My summer by the numbers…

Over the course of my internship, I spent 5 days on the Colorado River, 1 day on Lake Powell, 3 days on a paleontology survey, and the rest of my time at park headquarters. Outside of work, I've visited 2 national parks, 3 national monuments, and several national forests and other public lands. That's not even counting my home park, Glen Canyon National Recreation Area!

Last week, I visited a fourth national monument when I joined interpretive rangers for a visit to Rainbow Bridge. Rainbow Bridge is one of the largest natural bridges in the world and is sacred to local indigenous tribes. It was a 2-hour boat ride up Lake Powell from Page. We hiked a mile from the boat to the bridge, but 20 years ago you could take a boat all the way to the base of the bridge.  When we got to the bridge, a thermometer read 104 degrees—and that was at 10am in the shade!

Other than my trip to Rainbow Bridge, I have been continuing to synthesize data for my erosion monitoring project, the results of which I will be presenting at a local archeology conference in nearby Flagstaff this August.

On the weekends, I've enjoyed visiting different parks and monuments in the region. Most of these areas are part of the Grand Staircase, the cliffs of colored sedimentary rock formations that descend from the pink sediments of Bryce Canyon to the oldest layers of the Grand Canyon. The part of Glen Canyon NRA that I am based in is located at the base of the Vermillion Cliffs, red sandstone that makes up one of the lowest "steps" of the staircase. I could see where each park fell in relation to the others by the color and elevation of the rock formations, or which "step" of the staircase they were in.

Books about this region accompanied my travels. John McPhee's Basin and Range discusses the geologic history of the southwest, and Ellen Meloy's The Anthropology of Turquoise explores the desert through geographies of color. While the authors' take different approaches (scientific and artistic), both books felt like equally true accounts of this landscape as I see it.