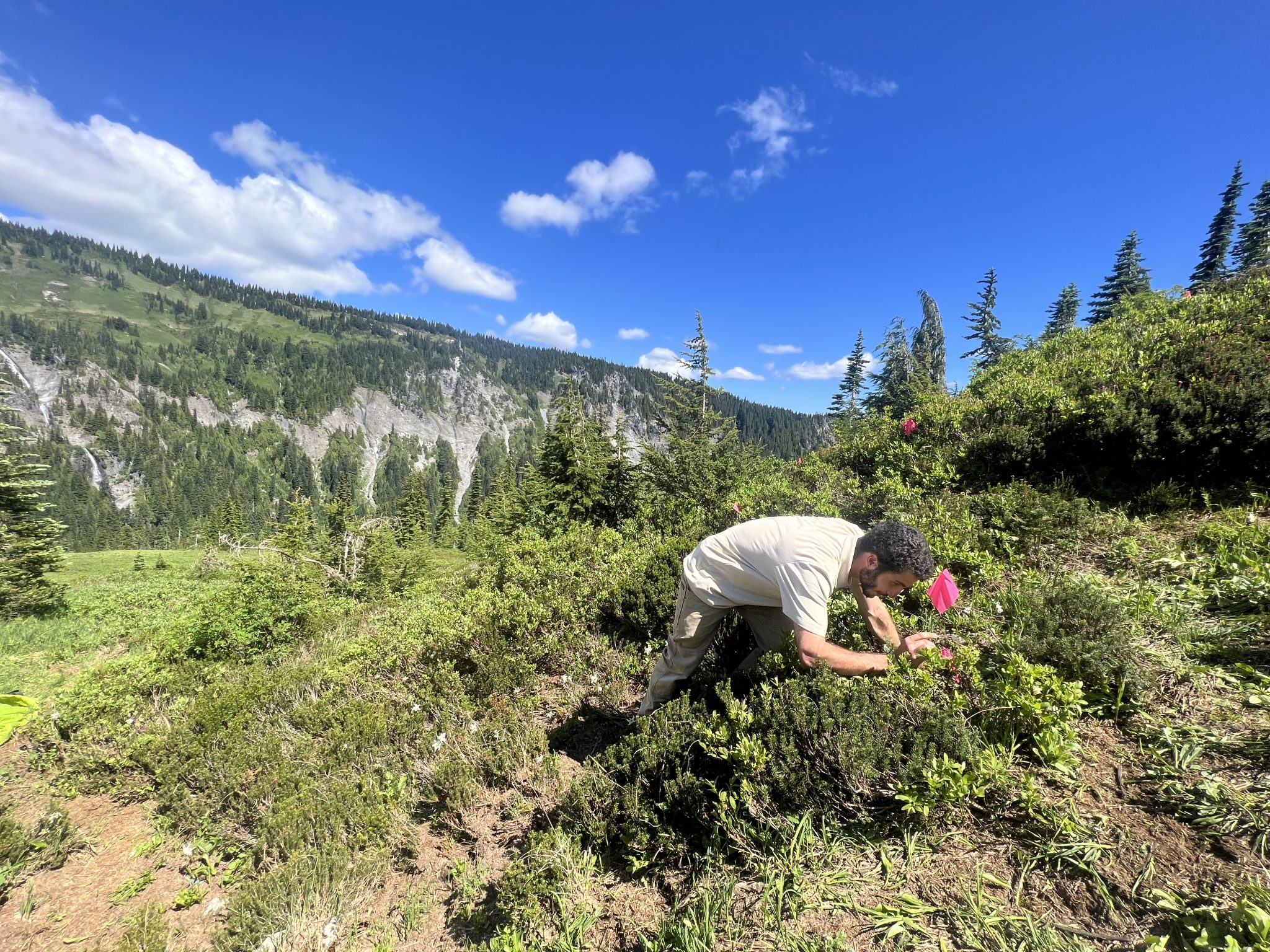 27 Jul

First Impressions of Field Work

Nearly every Friday this summer, I have been in the practice of hiking a trail out of my backyard called "Eagles Peak". When I first trudged the 3.5 miles up to the peak in early June, the entire upper third of the hike was frosted in ice and snow. As time passed, the sun began to peek out behind the dark clouds curiously. Pockets of snow melted, cold and damp ground giving rise to avalanche lilies, the opportunistic icons of spring. These lilies eagerly rose out of the snow, dominating the trailside along with fragrant bear grass. Fields of white flowers bowing down to the Earth as if they were in prayer.

Slowly, June shifted to July and the clouds unveiled like a curtain, sunlight piercing the mountain. Too much for the spring-loving lilies, the white senescence coincided with summertime magic at Mt. Rainier, the emergence of vibrant subalpine wildflower meadows. The meadows are so absurdly beautiful it doesn't even seem real to me. Pasqueflower reminds me of tiny trees from "The Lorax", tiger lily fragrance floods my senses when I take the time to smell, and broadleaf lupine are painted with the most purply purple I have ever seen.

The last six weeks of my internship revolves around monitoring these wildflower meadows. Field work is one of my favorite aspects about pursuing a career in ecology, and further developing my field skills was a central goal of mine for this summer. The coming of the field season means a shift in my schedule, and I just wrapped up my first field "hitch". While I used to work 4 days a week, 10 hours a day, my schedule is now an 8-6. I work 8 days in a row in the field generally and then have 6 days off. The subalpine wildflower monitoring is part of a long-term monitoring project with the North Coast and Cascades Network (NCCN) and is in the beginning stages of the long-term data collection process. There are wildflower plots setup across Mt. Rainier, but also in other parks in the region such as Olympic and North Cascades. Plots at Mt. Rainier have been visited twice, while plots at other parks in the network have data from only the primary establishment . This data collection has just started and should continue for decades in order to make conclusions about how the meadows may be shifting with the climate. This information will go on to inform future management decisions to hopefully preserve these meadows for generations to come.

During my internship, I will be collecting data in the plots around my home park but also will be spending one week at North Cascades National Park. The field methodology includes establishing 0.5 x 0.5m subplots in the larger 10 x 10m plot and assessing prevalence and nested frequency of the species present in the subplot. The field team consists of three of us; an experienced botanist, knowledgeable bio-technician, and me, the sponge. There are so many species present even at these high elevations, it is impossible to memorize them all. The botanist has been teaching me what to look for and how to make fine distinctions amongst species such as comparing the ligules. I have also been becoming more comfortable with being out in the field for extensive periods of time and collecting quality data, which will translate to my aspirations of working with wildlife someday. I also have been more interested in restoration ecology recently, and so building some knowledge of botanical processes has been really useful for me. Doing this field research, as well as spending time synthesizing previously collected data in R, has been an incredible opportunity to learn about work as an ecologist.